Complete Rebuild of Spiess Vertical Agitator Gearbox with Pressure Lube Pump with Oil Filtration System.

Costs less than a new replacement.

Reinstalls in exact location to exact specifications, allowing for fast change-outs.

Requested upgrades and modifications made with little or no additional expense.

Quicker cost recovery.

Eliminates long lead times.

Satisfaction guaranteed.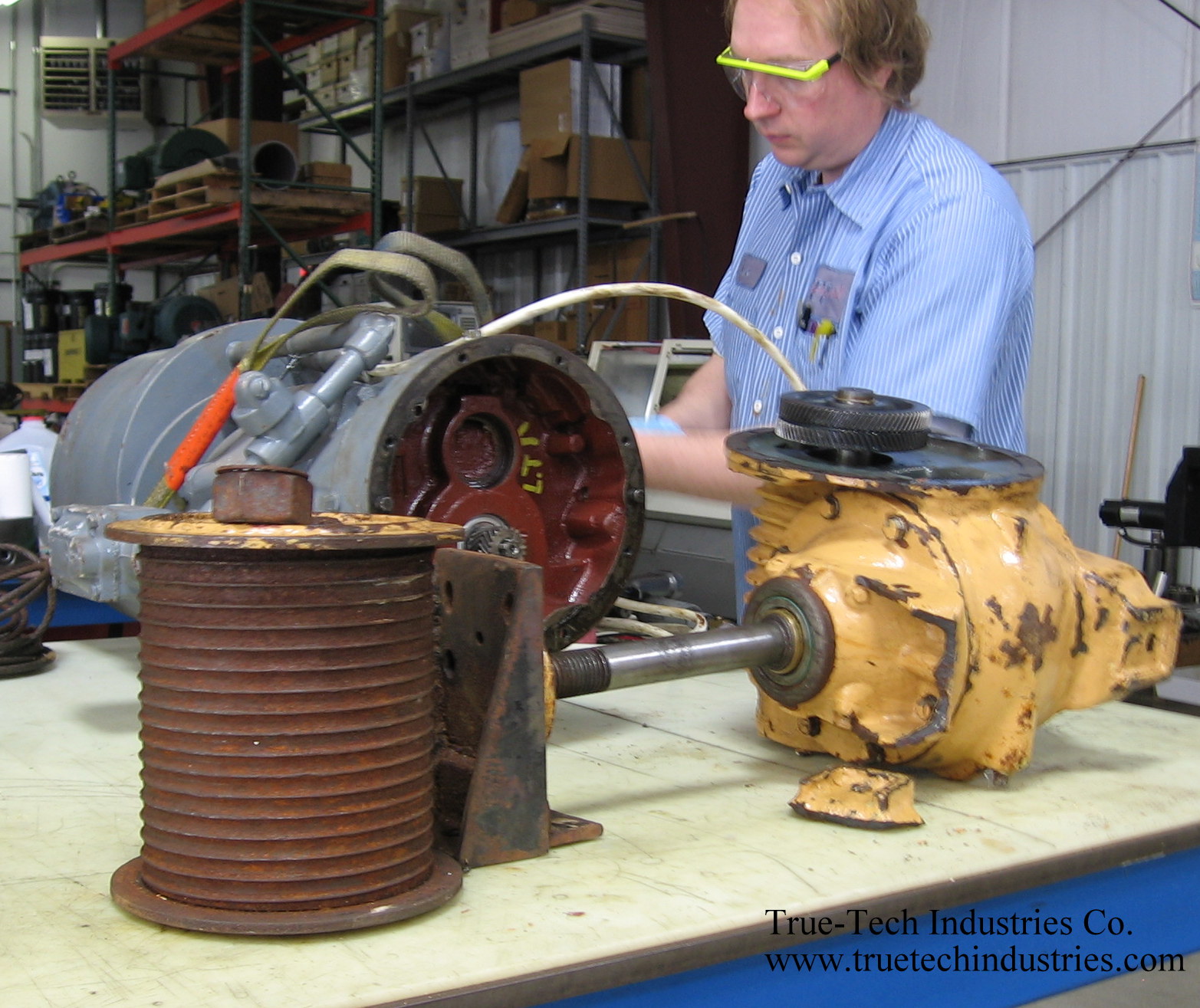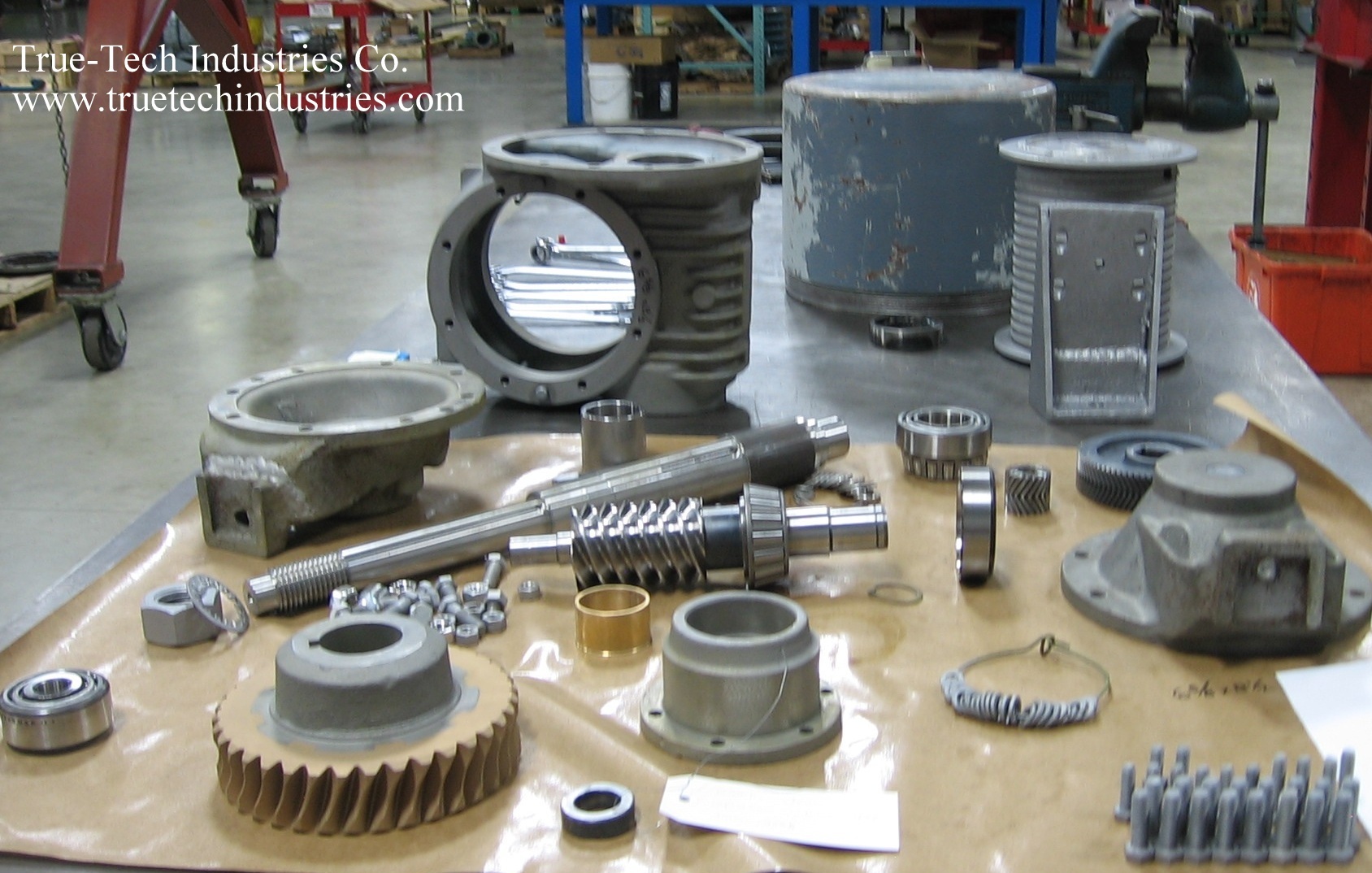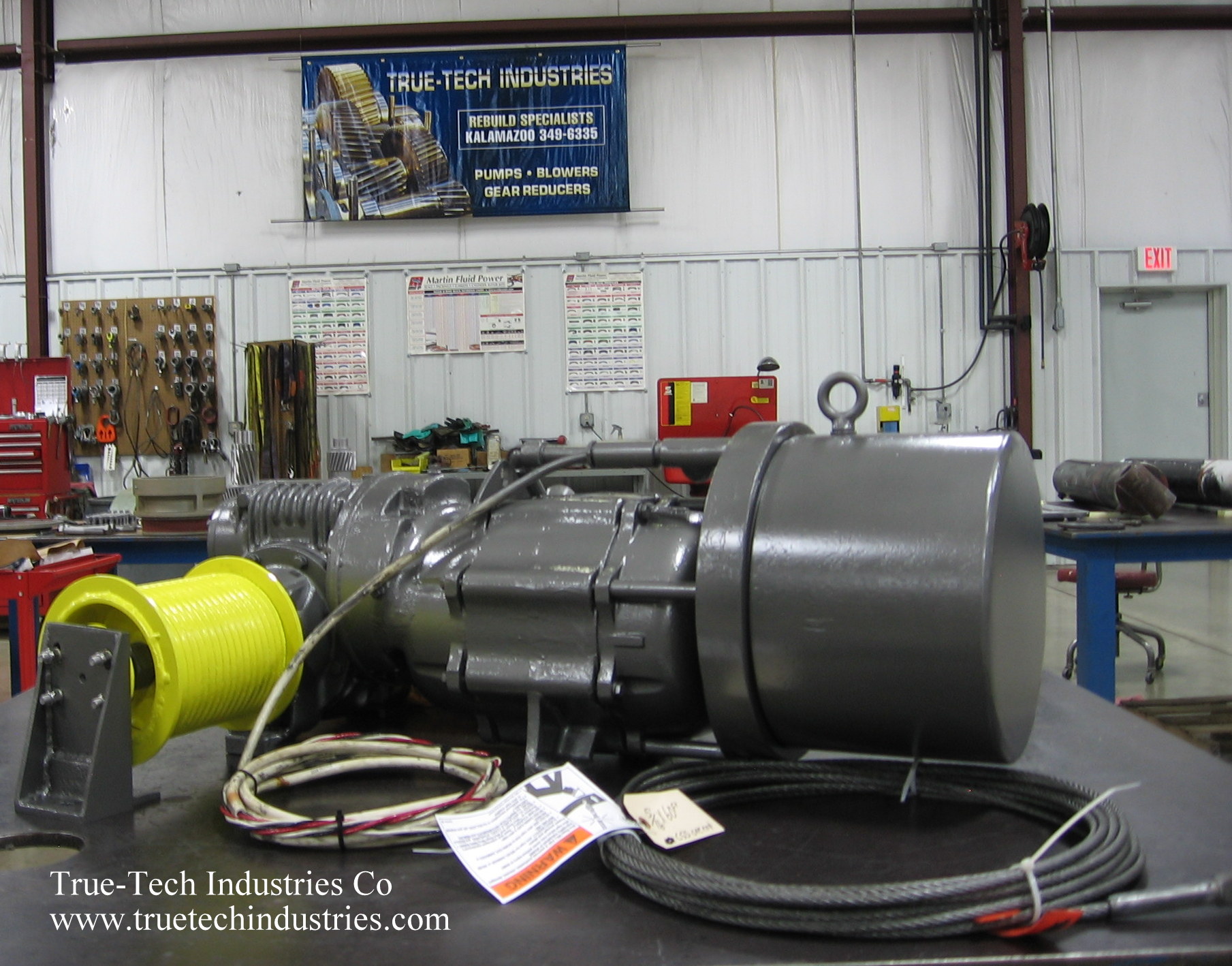 Complete Rebuild of Revolvator Hoist Drive. 2012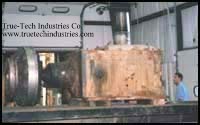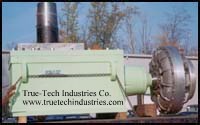 Complete rebuild of Falk/Voith 1,000 HP Pulper Gear Drive with Torque Converter Coupling.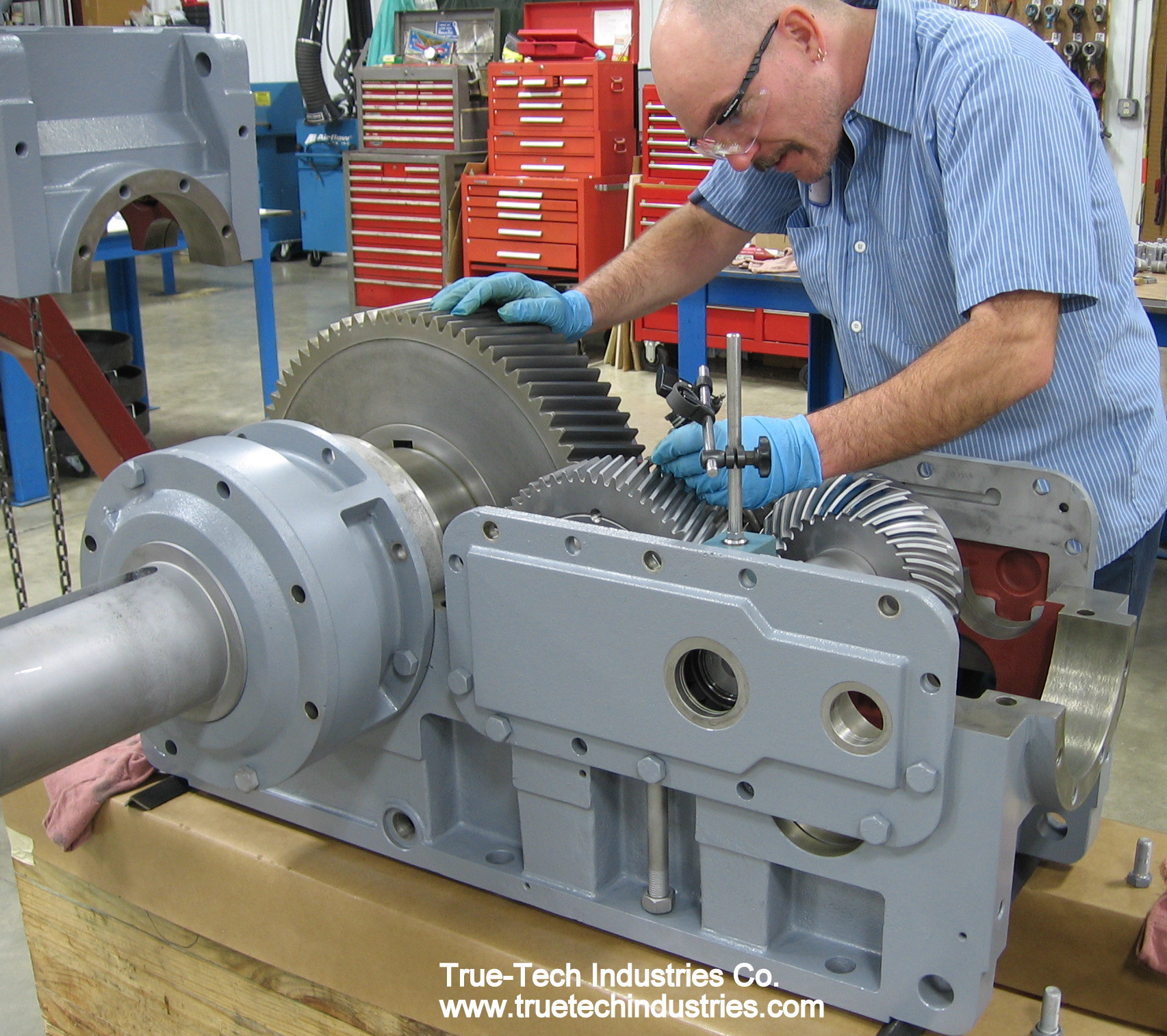 Rebuild of Textron/David Brown G1730 RTN, 15.83:1 Ratio, Helical Bevel Right Angle Speed Reducer, GEA Vertical Fan Drive for Power Plant.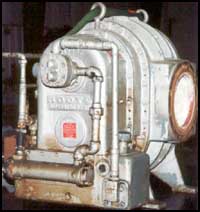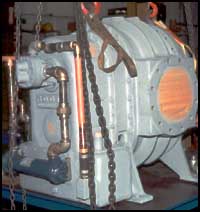 Rebuilt to new condition, obsolete Roots Blower with Heat Exchanger.
Customer had six units online, with two spares. If customer had purchased new style blowers their cost would have exceeded $2,000,000 due to the necessity of re-engineering, base and piping alterations and construction costs, plus added cost in regards to plant downtime and loss of production. Our rebuilt units have been and are still performing their tasks after several years.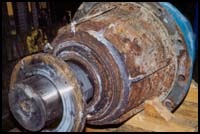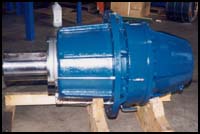 Complete Rebuild of Voith Pulper/Mixer 5,000 lb. Planetary Gear Drive for Paper Mill.
New replacement from German mfr. would have taken 23 weeks to build. We rebuilt this unit to new condition in one week with overtime and special parts air freighted to us from Europe authorized by customer.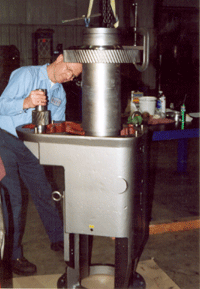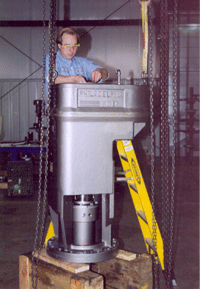 Complete Rebuild of Philadelphia H.D. Mixer Unit. Model PTEM-20, Ratio 21:1.
We manufacture many improved parts for these units.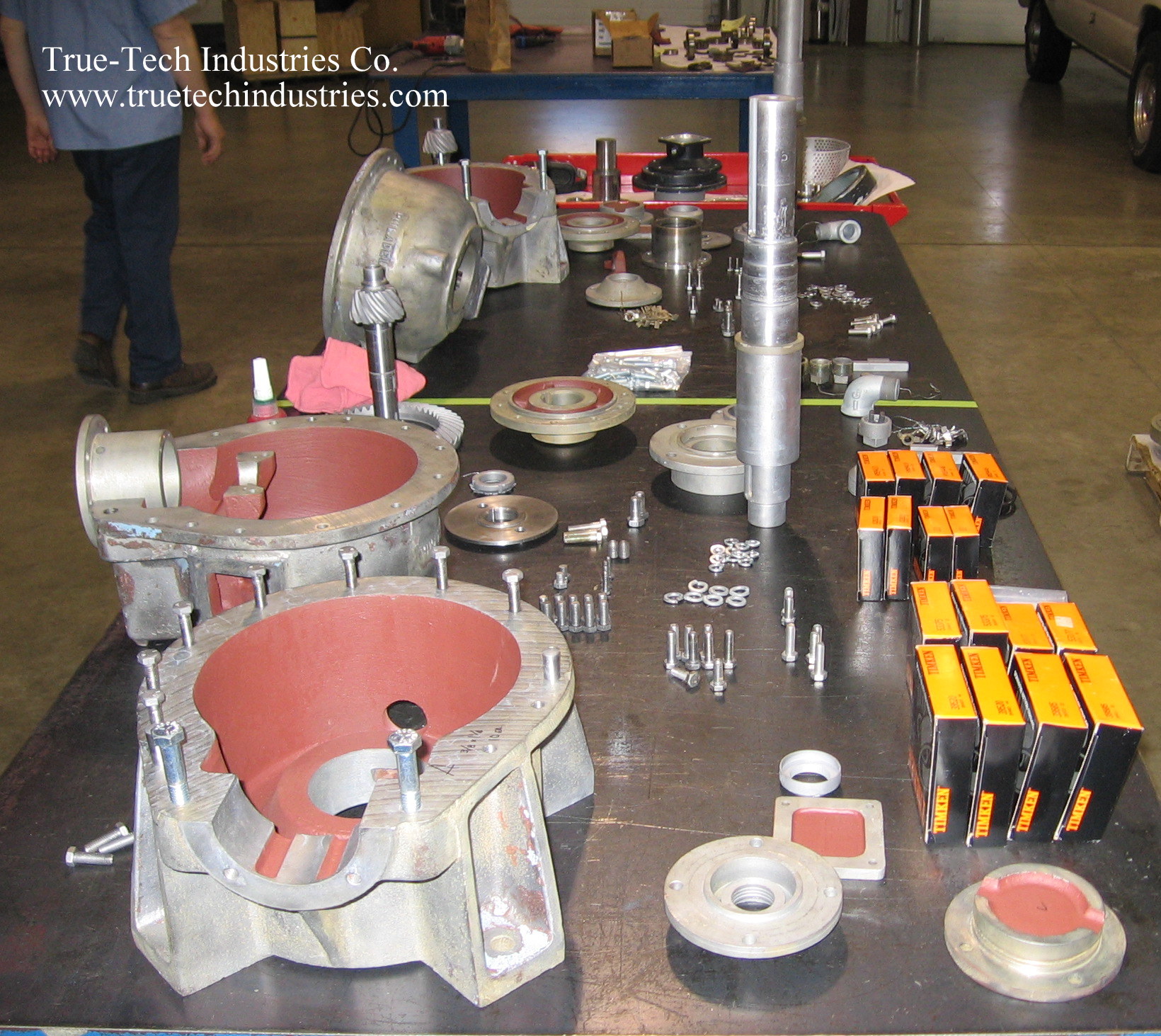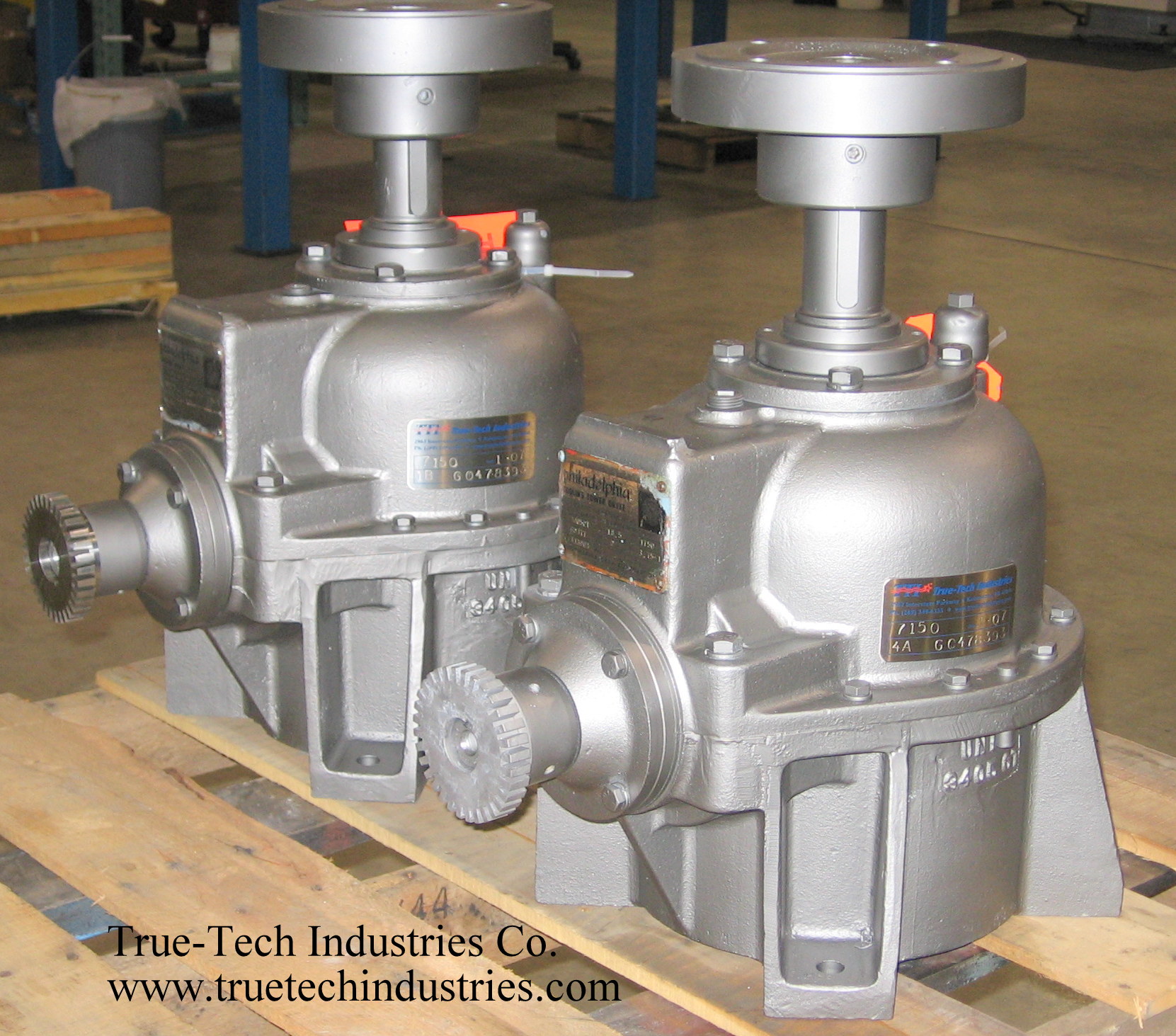 Complete Rebuild of Philadelphia Cooling Tower Fan Drives, Spiral/Bevel Gearboxes finished in our Stainless Steel Epoxy. Notice the detail. Our rebuilds are enhanced inside and out, increasing performance and longevity.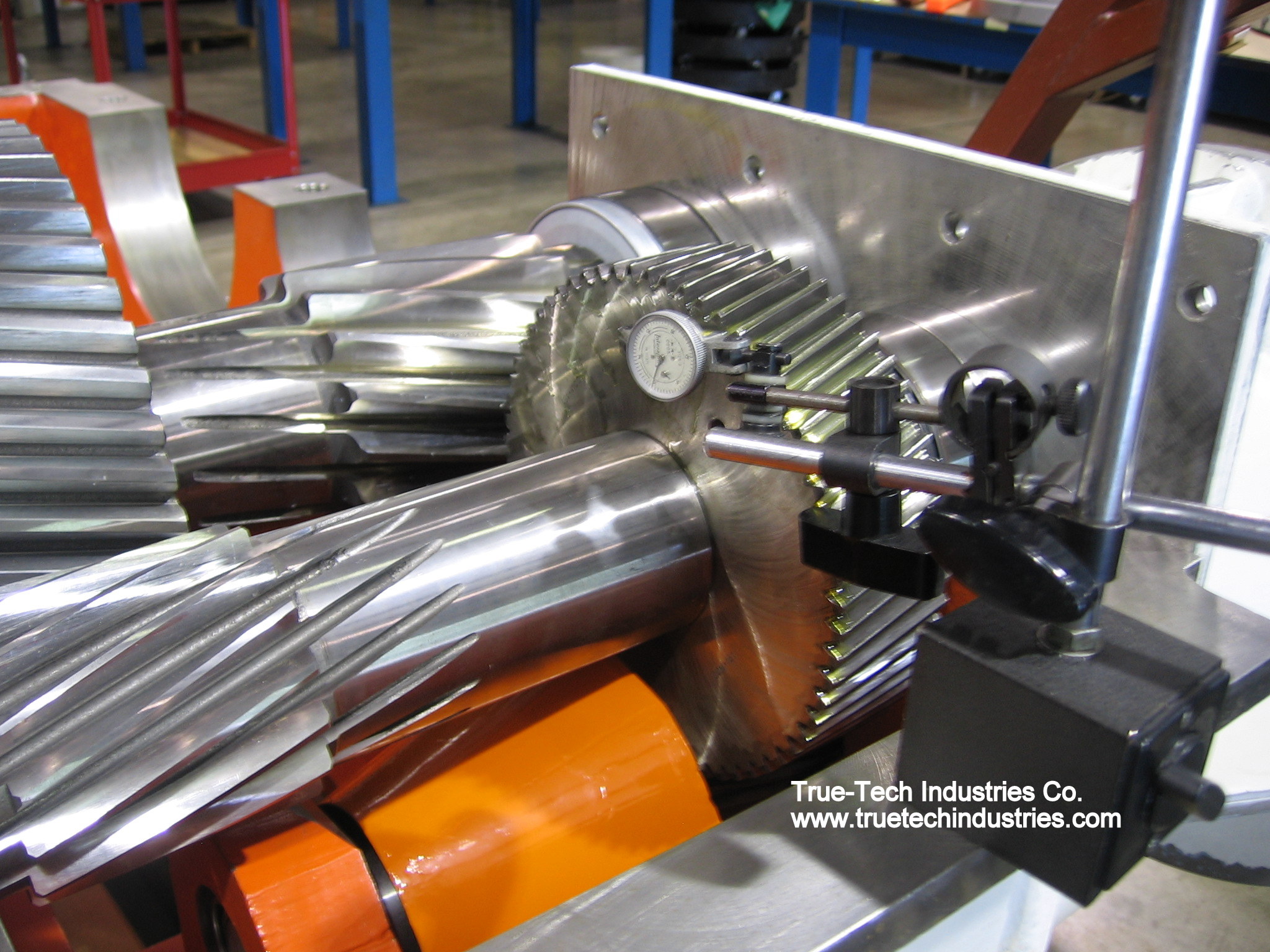 If it is built or repaired in our facility, you are assured the job has been done correctly, to its highest level of craftsmanship and quality!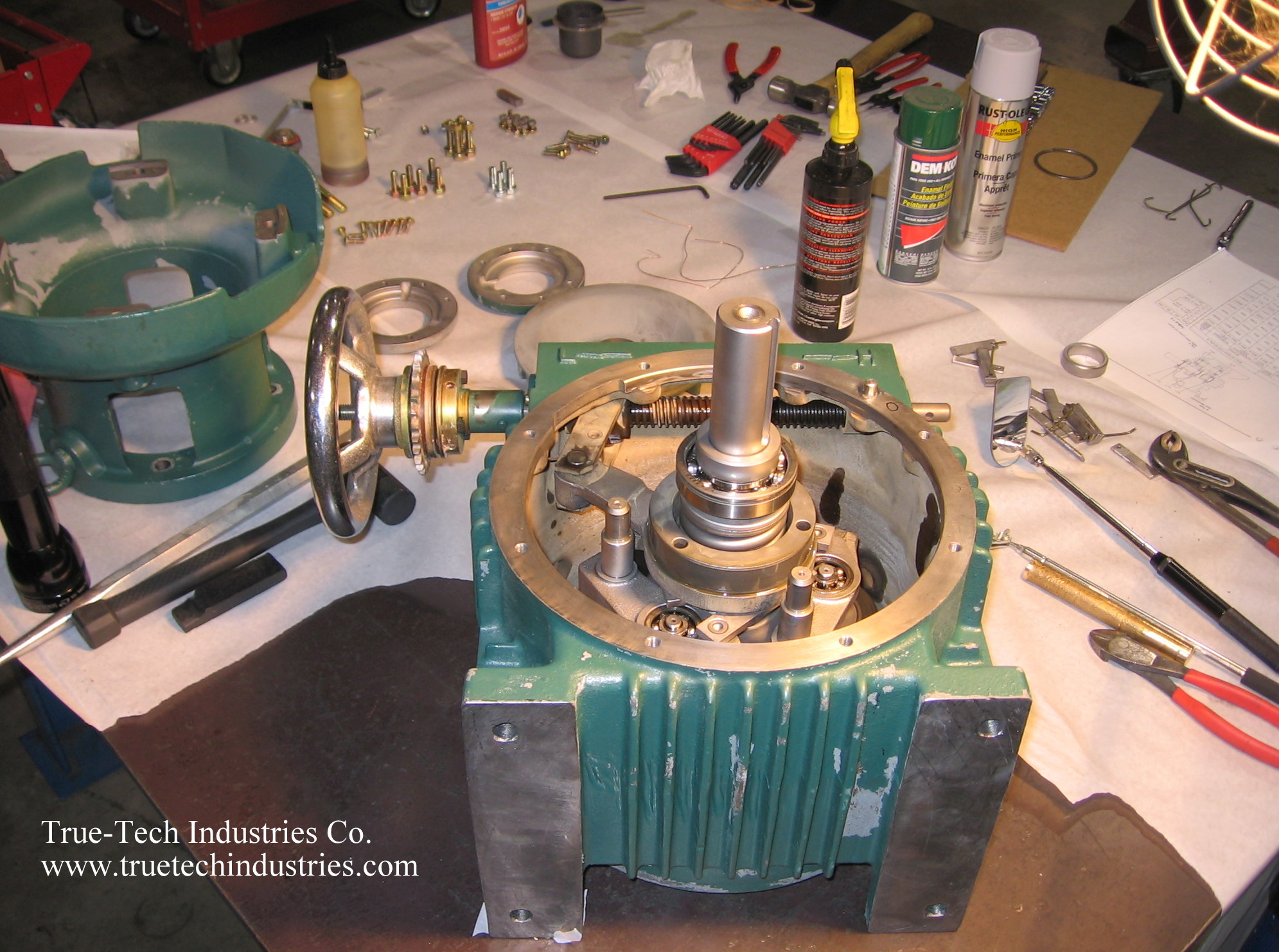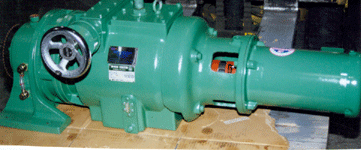 Complete Rebuild of Sumitomo SM-Beier Variator Drive with Horton M800-1 Air Clutch. We are one of the few companies in North America with the competence to successfully repair or rebuild these Variable Speed Drives.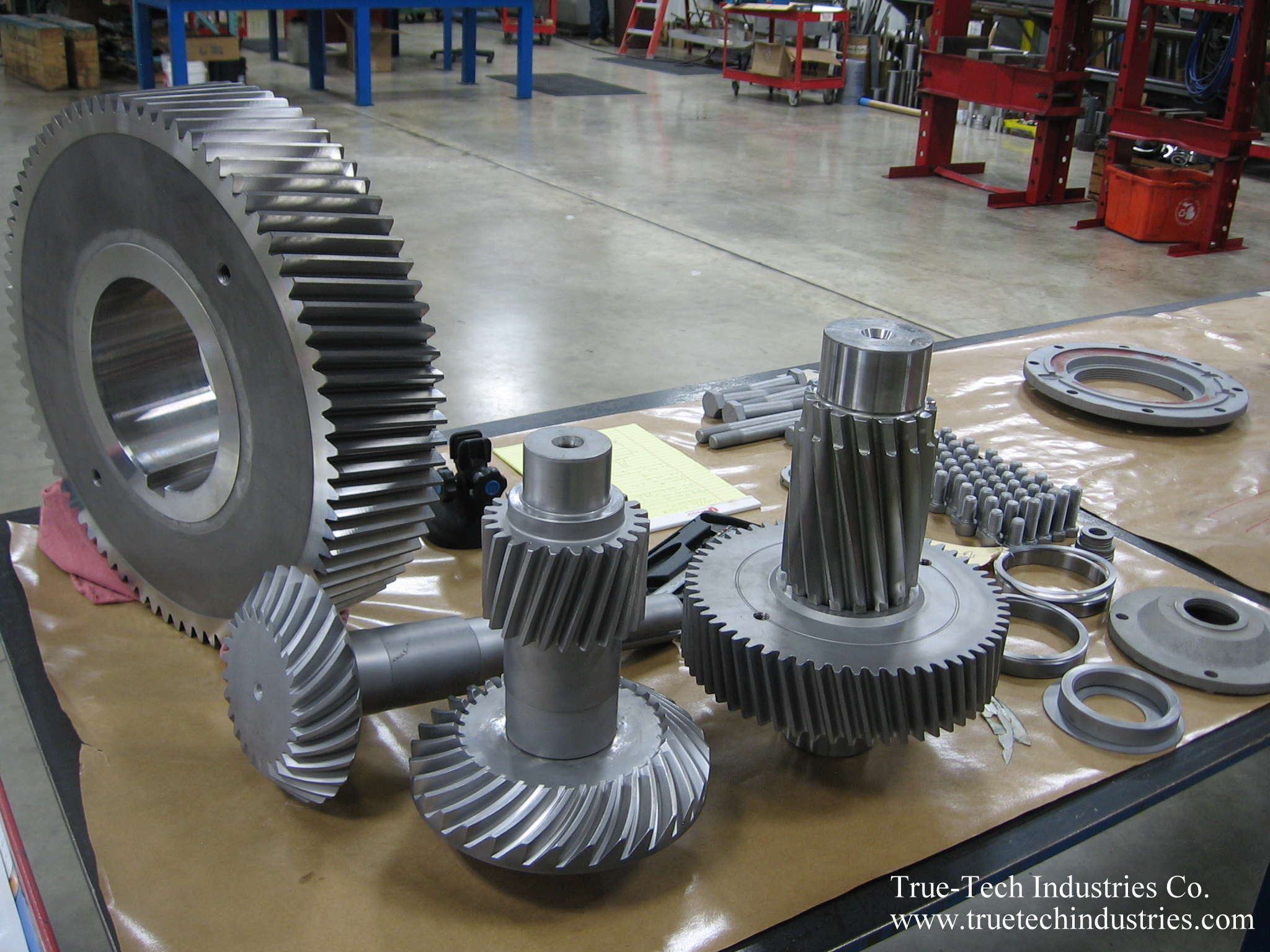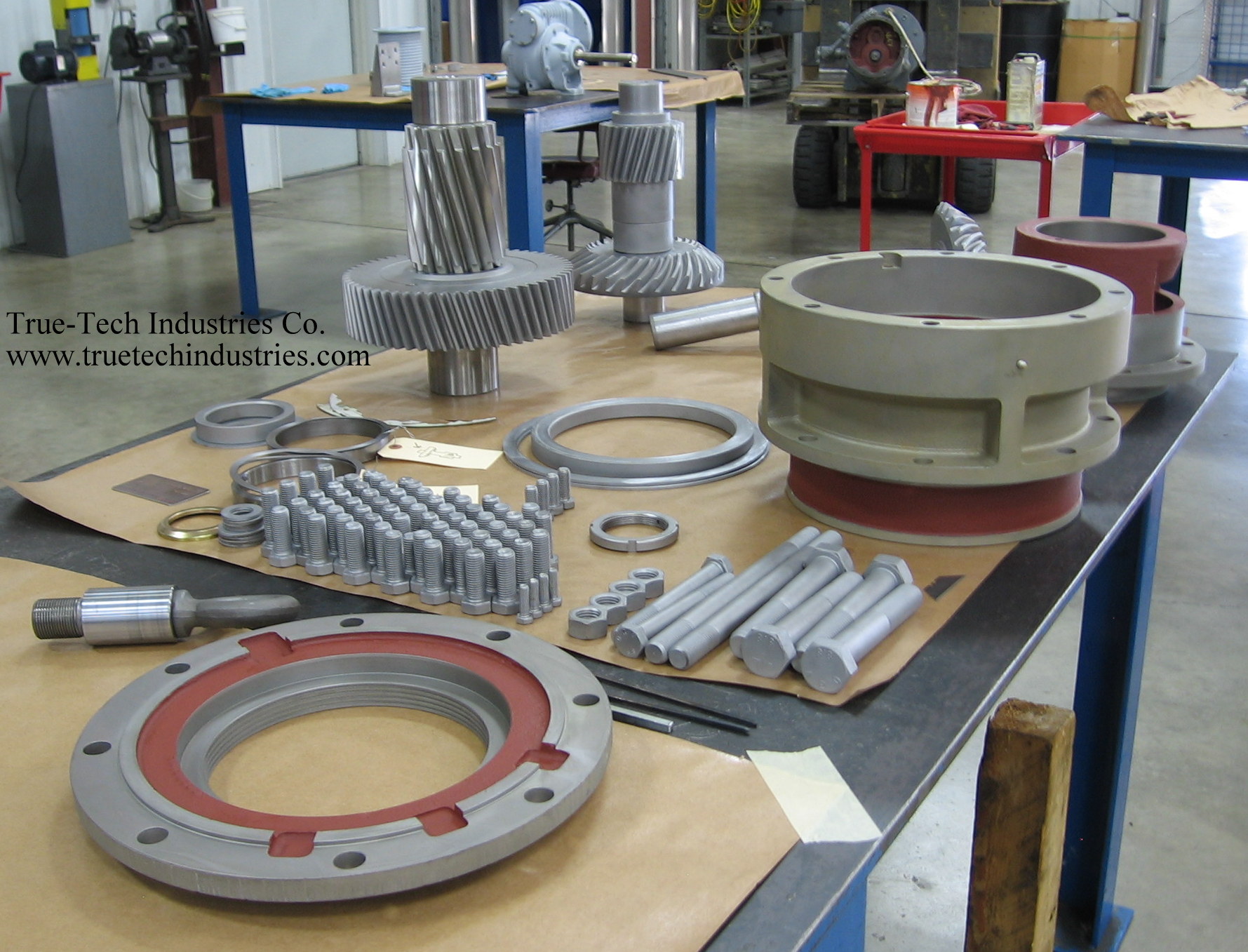 Gearbox Components Staging, machined and reconditioned components after final inspection prior to assembly.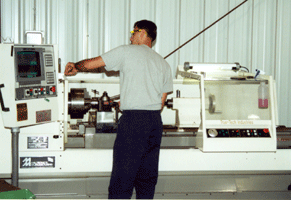 Latest addition to our machine tools is this 17" x 60" CNC Precision Lathe with super finishing attachment. We can achieve a .0005" T. I. R. in straightness and a 2L surface finish. We manufacture a large portion of our Pump Shafts, Pump Rotors, Pump Case and Seal Components, Gearbox Pinions & Shafts, Precision Rollers, and Hydraulic Cylinder Pistons & Rods.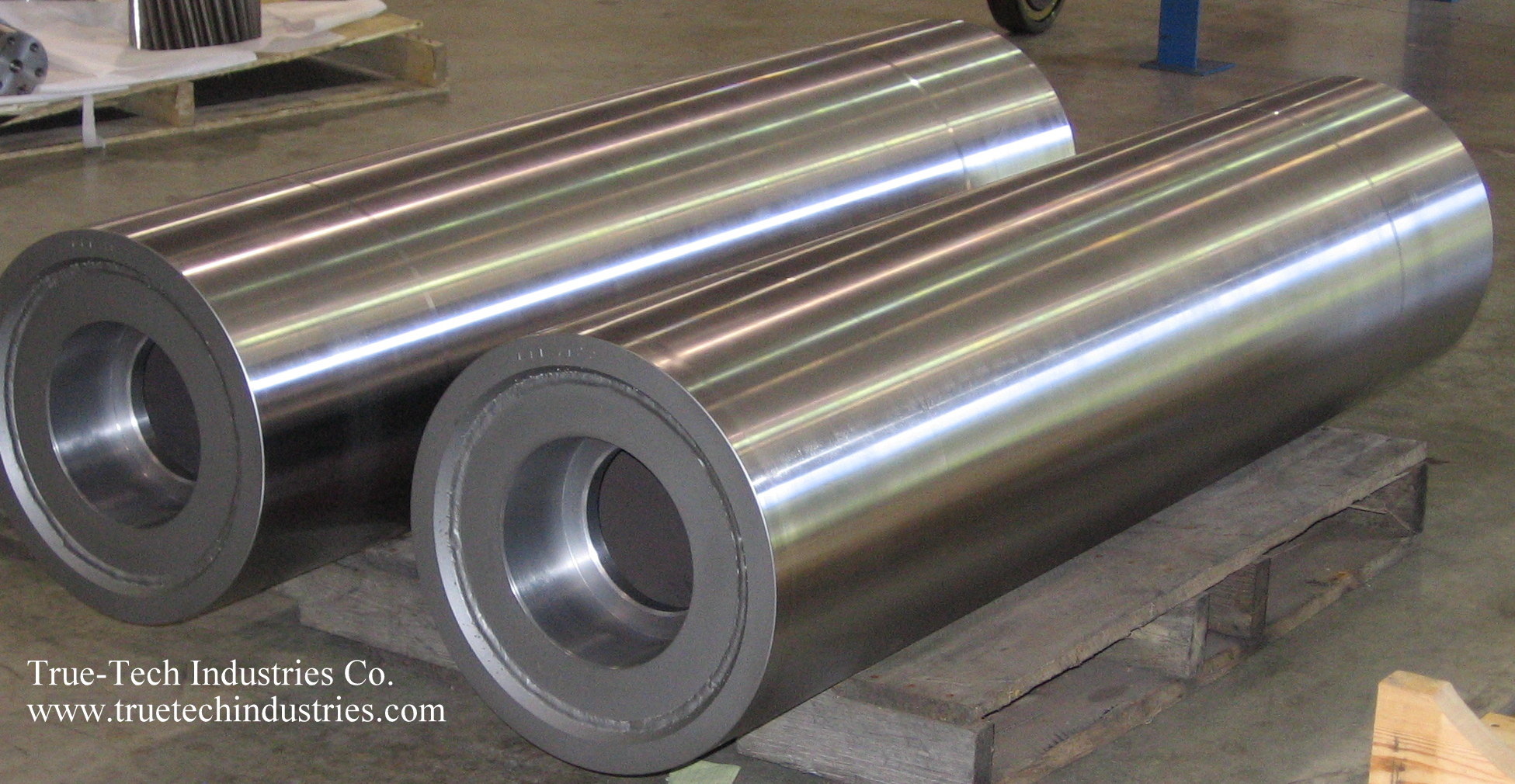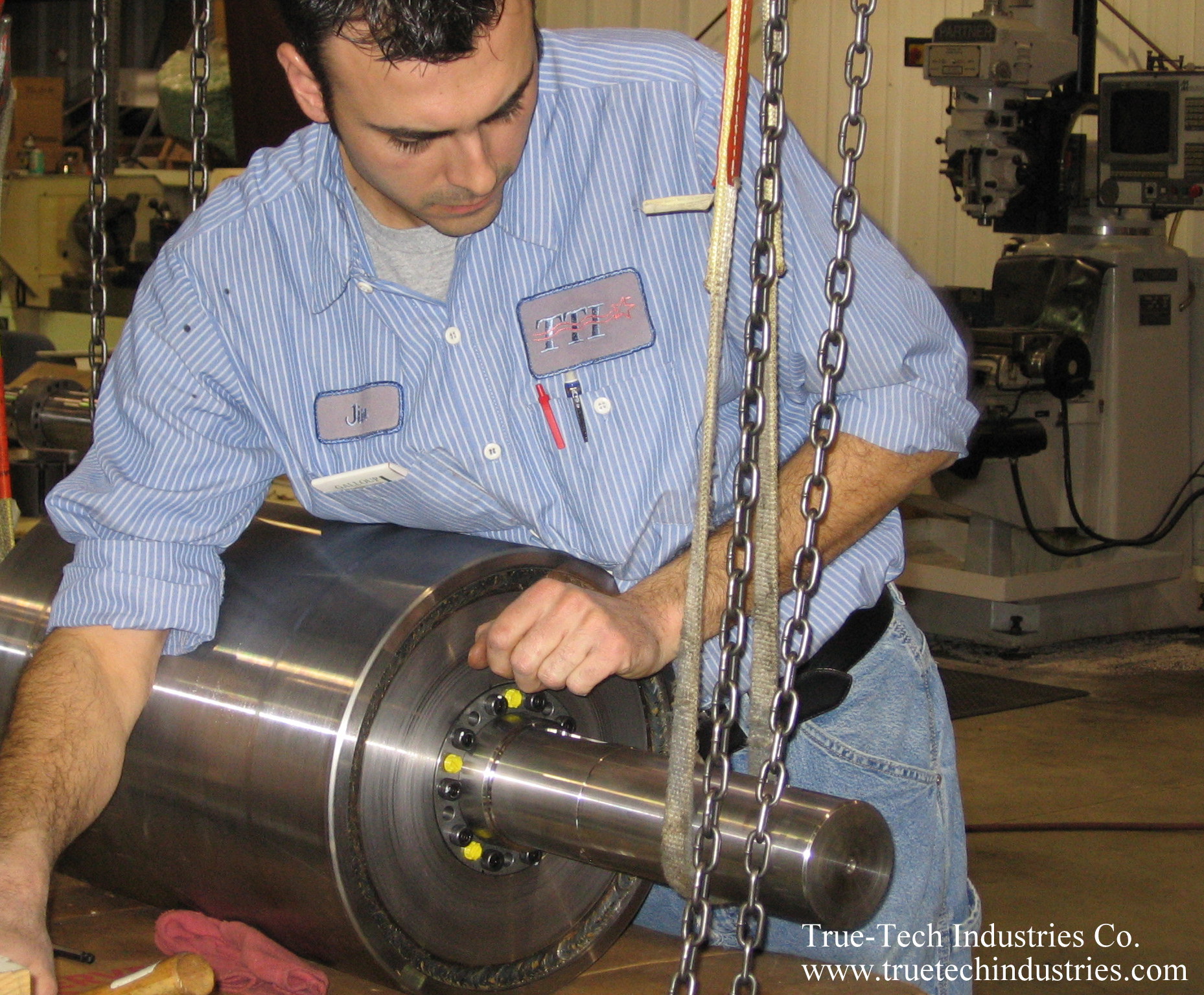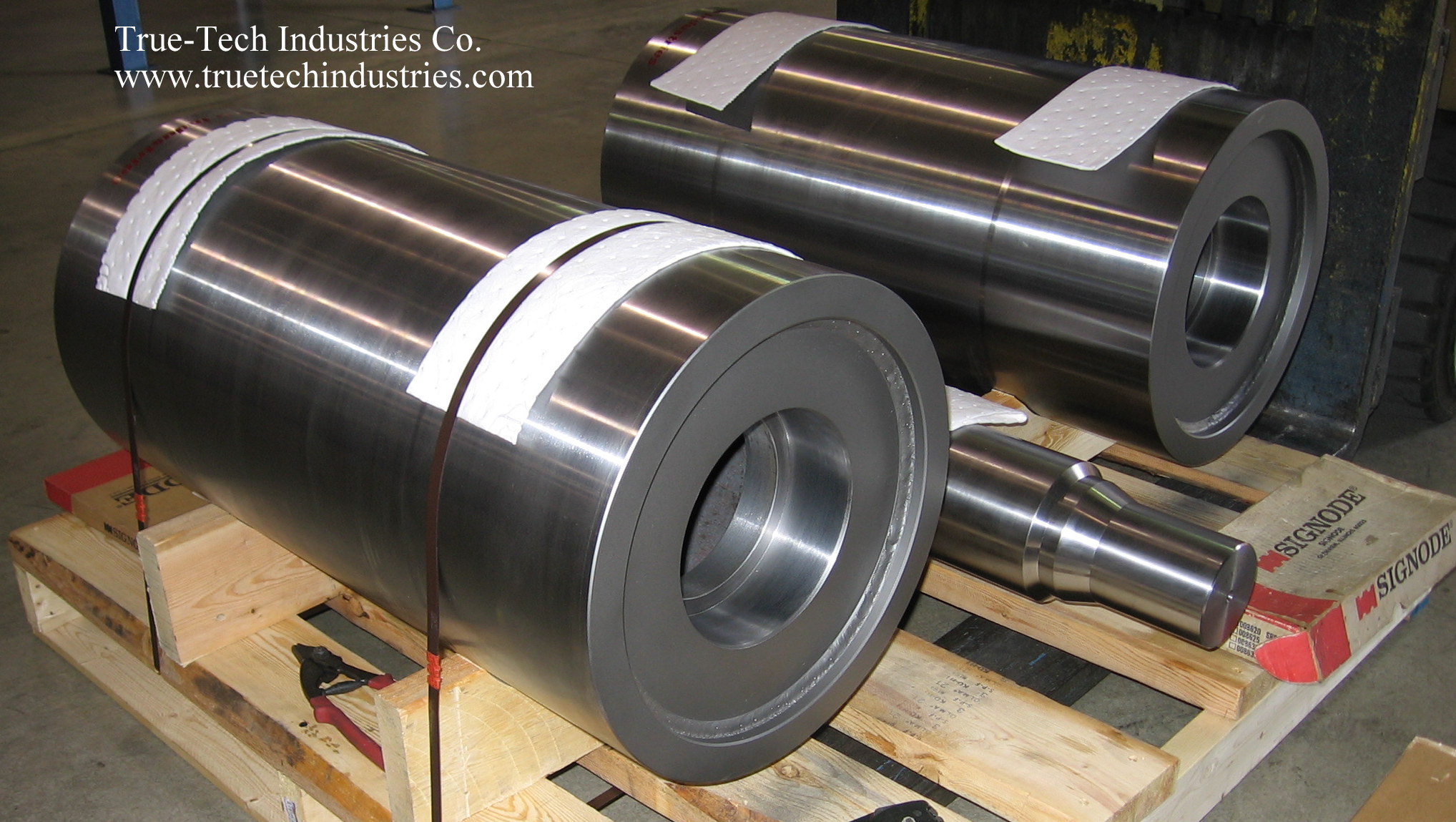 The above 4 images are Precision Machined Main Drive Shafts and Pulley Roller Drums for Skillet Lifts at Ford Motor Company Dearborn Truck Plant and Chicago Assembly.
We have been told by many, our expertise is #1. Partly, because we really work at it - always striving to be the best. We have the best people, facilities and systems in place, so you, our customer, keep coming to us.
Click here for location and map to our facilities.
To see our products and service list visit our Line Card


Please feel free to contact us!


Contact us via email or call us at 269.349.6335 for more information.
No Voice Mail... Our promise!
© 2012 True-Tech Industries Co. All Rights Reserved.